Property Assessed Clean Energy (PACE)
Rowlett has become a Property Assessed Clean Energy (PACE) Community. The City is one of the few cities in North Texas to participate in the national PACE program.
The Texas Property Assessed Clean Energy Program (PACE) facilitates the use of private capital to finance water conservation, energy efficiency, resiliency, and distributed generation projects to eligible commercial, industrial, agricultural, nonprofit, and multifamily properties. PACE pays for 100% of the hard and soft costs of completing energy efficiency, renewable energy, or resiliency projects.
It results in lower operating costs, more local jobs and a collaborative effort to conserve energy and water. For Rowlett, it is a tool for economic development and business retention which requires no obligation of the City, utilizes minimal staff resources and improves our environment.
The "Pace in a Box" model is utilized by every local government establishing this program in Texas. It is a simplified model that has minimal impact on staff, creates no costs to the taxpayers and is administered by a nonprofit that does not compete with the private sector and is funded through user fees and grants. They will handle and administer the process for the City at no cost to the City.
Contact Libbey Tucker at ltucker@rowlett.com or at 972-412-6193 if you are interested in utilizing this program.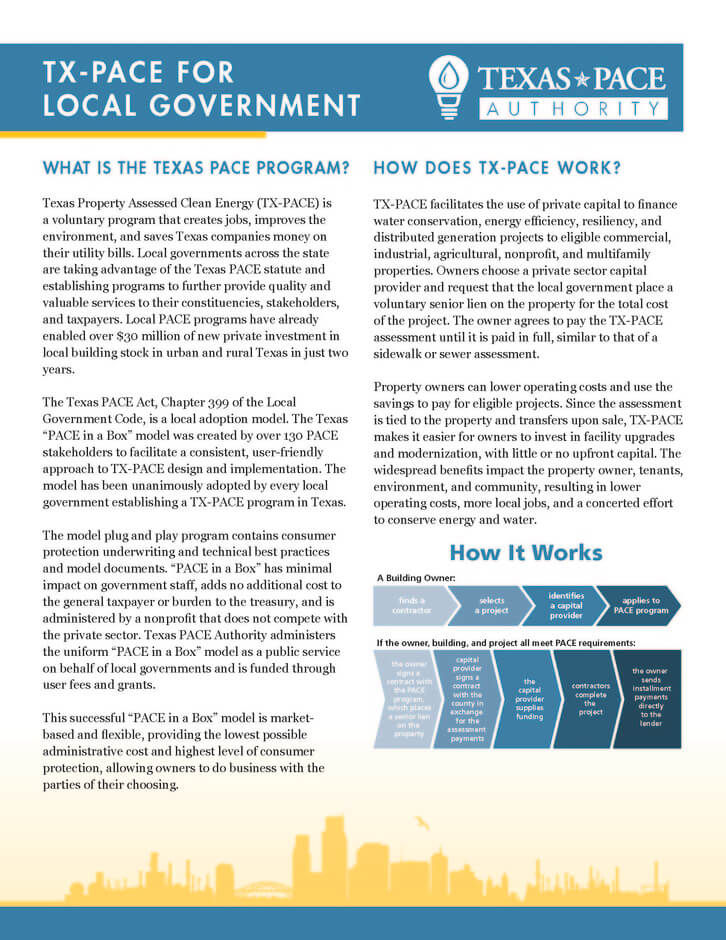 ---
There is no financial impact to the City of Rowlett and this program requires minimal staff time, as a non-profit, third-party provider, Texas PACE Authority will handle the transaction. Visit www.texaspaceauthority.org to learn more.