Success in Attracting and Retaining a Trained, Quality Workforce in Rowlett Texas
The Dallas Fort Worth region continues to rank high in the U.S. for attracting, developing and retaining a trained, quality workforce. The region's success is largely attributed to an impressive and diverse network of education and training entities in the DFW region and North Texas.
Workforce development is an essential component of economic development and benefits the sustainable growth of a community and region. Strong economies hinge upon youth having the skills needed for their future career paths. Investment in the diversification of skills is critical to creating a more robust workforce to meet the needs of today's business and industry.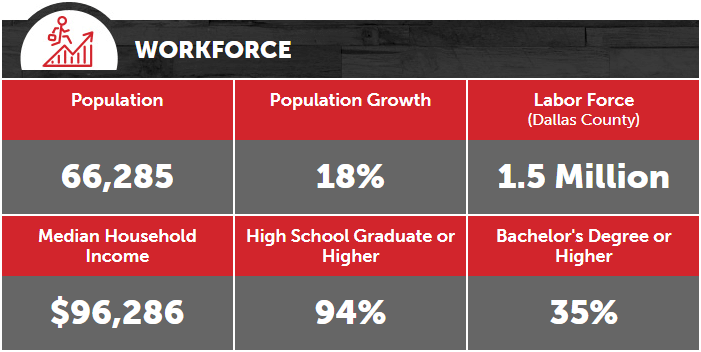 The Texas Advancement Center (TAC), provides unique training programs geared towards high school students, post-secondary graduates, and unemployed and underemployed adults in the workforce. TAC offers guidance and assistance with job-search strategies, resume writing and interviewing best practices. Much of the training is available at no charge to students and is covered through the Texas Workforce Commission. Graduates typically stay in the Dallas Fort Worth region
Rowlett's location offers access to a 1.8 million qualified workforce within a 30-mile radius and an excellent location for business and industry. We are excited about the trends in training and education of our existing and future workforce pipeline for Rowlett and the Dallas Fort Worth region. The information gleaned from our education and technical training partners indicates many positive trends such as an increase in women in the workforce and in technical trades; emphasis on soft skills, diversity and equity training; increased junior and senior high school students utilizing career training programs; adult students returning for upskilling and reskilling training; and significant growth in health, tech and manufacturing sectors.
###
Additional summary of trends:
In visiting with these four education and training organizations, we identified the following key trends.
Shift to virtual learning and a hybrid combination of virtual and in person classes.
Shortages and increased demand for workforce and expanded training programs in health, tech, IT, cybersecurity, engineering, HVAC, construction management, manufacturing, maintenance, robotics, mechatronics, electrical, programmable controllers, motors, transportation and construction management.
Increase in OSHA classes, lean manufacturing, supervision, AutoCAD, Fusion 360, safety, Excel, soft skills, diversity and equity training.
Increase in gender diversity, the percentage of women in all training and education programs, and women crossing over into mechanical related sectors.
Increased number of junior and senior high school students taking dual credit classes.
Adult students returning for upskilling and reskilling training.
Aging population is ready to retire. However, the pipeline of trained, younger workers is not adequate to fill those gaps.
Employees are quick to move to another company for a fractional increase in pay.